WHAT IS The IJAZAH ?
The Ijazah is a testimony from the Sheikh Al-Majiz to the student Al-Majaz that he has recited the Qur'an completely absent with the Tajweed and mastery of the narration or narrations that are authorized, and he became eligible to read it,And by obtaining this Ijazah the reader would have called his chain of transmission to the Prophet, peace and blessings be upon him, and he became part of the chain of transmitters of the Book of God Almighty With a bond.In this course student of online Ijazah course will get a consent or Ijazah from an effectively confirmed Imam or teacher.You can select for your online Ijazah Course and present the Holy Quran to your teacher , Essentially Ijazah is given in Qirat Hafs from Asim (حفص عن عاصم).
Get Trial Class or See All Courses
How can take Ijazah ?
If he wants to obtain a Ijazah  in one narration, such as Hafs or Warsh or they say, the Holy Quran must be carefully preserved with the application of the provisions of Tajweed.
It improves the study of the (Matn) in Tajweed, or book, and prefers the Ibn al-Jazari (Matn) provided.
And some Shikh allow those who know the eligibility without requiring them to read a conclusion on it.
Ijazah in other Qirat:
The following  are the other Qirat you can get Ijazah in them as well.
Nafi'
Ibn Kathir
Abu 'Amr ibn al-'Ala'
Ibn 'Amir
'Asim
Hamza
al-Kisa'i
Abu Ja'far
Ya'qub
Khalaf
Example of Ijazah for one of our student ?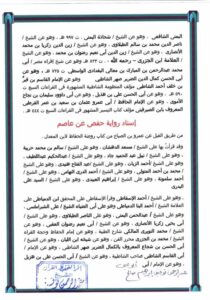 Instructor
Related Courses
June 12, 2020 /
Abdallah Ali
June 12, 2020 /
No Comments
Abdallah Ali